Validation and notifications
To view the validation results in the Notifications dialog, click the Notifications icon

.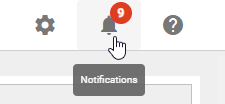 → In the Notifications dialog, all the validation results for your Aspect Model are listed.
To see more details for a notification, expand it by clicking the Expand arrow icon

.
Locate validation errors in your Aspect Model
To locate a validation error in your model, click the Options icon

for a particular validation error and select Go to.

Manually trigger a validation
To manually trigger a validation, click the Validate icon

in the toolbar.